RISING COST OF RISK
ON THE GULF COAST:
How Nimble Developers Are Responding
In addition to the human toll that Hawaii and California have suffered from catastrophic weather of late, the one-two punch of wildfires and cyclone winds have thrust the cost of risk into the spotlight. While both storms targeted the Pacific Ocean, they have also sent shivers down spines along the U.S. Gulf Coast, particularly in Florida, where Hurricane Idalia's storm surge is still being assessed 11 months after Hurricane Ian wreaked havoc on the Southwestern part of the state.
In the half-decade leading up to 2022, the price tag on the five latest hurricanes to barrel down on the Sunshine State surpassed $47 billion.1 Therefore, it's not surprising that property insurance premiums have been soaring by a double-digit percentage year-over-year, creating an ever-widening chasm in the market between the insured and uninsured.
A PERFECT STORM
While the Gulf Coast is no stranger to storm surge given its underwater geology, the emergence of certain climate events coupled with shifts in regional dynamics, comprising a population boom, rising property values, and soaring replacement costs, have raised the stakes. As a result, insurance has become harder to come by for many and pricier for those property owners who can get their hands on it.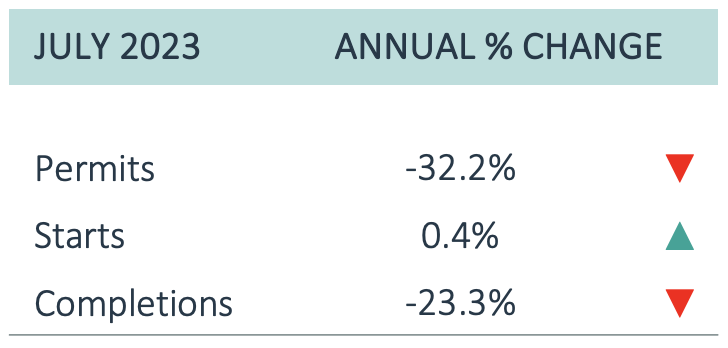 (Click image to view larger)
Sources: U.S. Census Bureau; Real Page.
Chief among the drivers of higher premiums have been rising replacement costs coupled with soaring reinsurance rates. A consequence of this prickly insurance backdrop has been slowing construction permits, thereby bridling market supply. Nationally, multifamily construction permits are now hovering at their lowest three-month average since year-end 2020 as getting deals to add up presents more of a challenge for many. As of July, multifamily permitting fell by nearly one-third vs. year-ago levels, as per U.S. Census Bureau data.2
"Reduced availability of credit for new construction, problems getting projects approved, and significant increases in operating expenses are hampering new multifamily development. Property, casualty, and liability insurance has emerged as a major issue facing the multifamily industry, further constraining new supply," stated Lance Swank, chairman of the National Association of Home Builders' ("NAHB") Multifamily Council.3
And yet, according to the results of the NAHB's Q2 Multifamily Market Survey, builder and developer confidence for new multifamily housing has remained positive, owing to long-term favorable supply and demand dynamics.
While insurance coverage may be built on shifting sands, developers like Encore Enterprises stand on a solid foundation, one that is buttressed by deep industry relationships and a nimble approach. As a result, Encore is prudently navigating this terrain through a combination of risk mitigation, a deep bench of seasoned experts, and some fortuitous timing.
PREMIUM PINCH
According to Mark Friedlander, Director of Corporate Communications at the Insurance Information Institute (Triple-I), the insurance premium crisis on the Gulf Coast is indicative of an ongoing trend that has been unfolding at the macro level in commercial property premiums over the past three years.4 During that stretch, annual U.S. commercial property premiums have been increasing roughly 20% year-over-year, double the pace of commercial auto premiums and nearly three-times that of commercial umbrella premiums, Triple-I data reveal.
On the other hand, it's clear that insurance premiums along the Gulf Coast are climbing at a drastically higher clip compared with the national average. Complicating matters, providers have been fleeing Florida in droves, leaving the remaining insurers to shoulder the underwriting burden, and exacerbating an already precarious situation for property owners, commercial and residential alike.
No matter the storm, when it happens, or even where it's located across the globe, the cost of risk is rising and is therefore on the radar of the U.S. commercial real estate industry.
Nevertheless, multifamily real estate as an asset class has managed to stay above fray and is projected to outperform other property segments for the foreseeable future amid stable net operating incomes, according to an analysis by DBRS Morningstar.5
THE HIGH COST OF RISK
2023 NATIONAL INSURANCE RATE OUTLOOK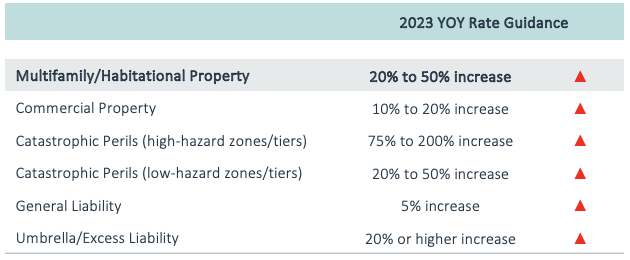 (Click image to view larger)
Sources: HUB International 2023 Real Estate Outlook. Image by HUB International6
The first rung in the risk-cost ladder is the reinsurance market. Reinsurance rates have been rising across the entire Gulf Coast, including Florida and Texas. According to Triple-I's Mark, in Florida, reinsurance premiums are running between 40%-70% higher, on average, while in Texas they are running an average of 40% higher, both year-over-year. As insurance providers face higher premiums on their reinsurance policies, those that survive then pass along those costs to property owners. But this is only the tip of the iceberg.
Reinsurers serve as a backstop to their property-insurance peers. All insurers purchase reinsurance so that in the event of a catastrophic loss, they don't deplete all their reserves. Reinsurance rates kick in at various stages of loss.
Insurance carriers rely on "wind tiers" to assess the risk of a named storm. In coastal areas like Florida and the Gulf Coast, this is often known as Tier-1 coverage.
Charlie Keels, president of multifamily at Encore Enterprises, notes that "most property owners are having problems finding Tier-1 coverage in Florida these days," a phenomenon that's nothing like anything he's observed before in his career.
"Reinsurance rates and deductibles continue to increase at a record pace and some sponsors are struggling to find insurance at all for properties located in tier 1 cat zones. I've heard multiple stories where people cannot obtain insurance coverage for their property in Florida," Charlie said.
Fortunately, this hasn't been the case for Encore, as it has been able to secure the coverage it needs in Florida, including a policy renewal as recently as June 1 that was on the lower side of the rate-hike spectrum. With double-digit percentage premium increases now the norm, other market participants have seen hikes of up to 50%.
"The new, increased cost to underwrite insurance has downward pressure on returns. Whenever that happens, there are a lot of projects that would otherwise pencil that won't pencil, especially in Florida," Encore's Charlie said.
RIPPLE EFFECT
There is a ripple effect, as bigger line items then take a toll on exit values, a consequence that differs from property to property but for which the solution is the same—higher rents. As the insurance industry works to iron out its kinks in the coming years, projects that are gearing up for construction should be among the first in line to benefit in the way of an eventual swinging of the market cycle pendulum from moderating to higher rents.
Meanwhile, limited new inventory amid the permitting slowdown coupled with the great in-migration to Florida disrupts the supply/demand balance, handing the competitive edge to those developers with construction projects in the pipeline.
The next rung in the risk ladder is showing up in replacement costs. For example, in the four years leading up to 2022, replacement costs on commercial properties climbed 40% higher, driven primarily by supply chain issues, and rising commercial construction costs for both materials and labor.
Rising costs transcend any regional market and are being felt around the U.S. real estate market. This year, State Farm, the single-largest provider in California, pulled back on its residential and business property casualty coverage in the state amid "historic increases in construction costs outpacing inflation."7
A similar story has unfolded in Florida, where the cost and availability of construction materials continue to hamper construction. After soaring as high as 25% year-over-year in mid-2020, Florida construction costs by early 2023 eased from their peak but remained 8% higher year-over-year, fueled largely by the price of concrete.8
RISK MITIGATION
In the face of these emerging insurance-related headwinds, Encore is taking certain mitigating steps to stay ahead of both market and hurricane forces, starting with materials, as project plans continue to evolve.
For example, Phase II construction is currently underway on Encore Vive II in Fort Myers using 100% concrete product. A similar construction style was used on Encore Vive, which sold in late 2021. Incidentally, Encore's Vive withstood Hurricane Ian's direct hit on Fort Myers in 2022, escaping any damage other than to landscaping.
EXAMPLE OF BLOCK CONSTRUCTION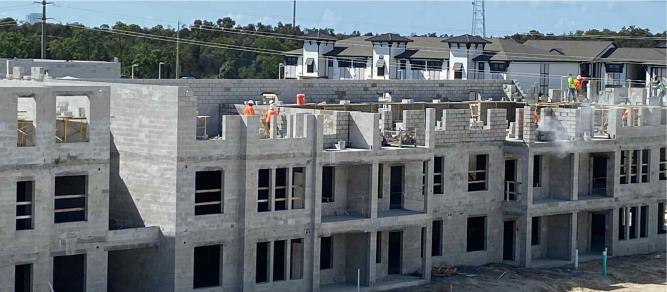 (Click image to view larger)
Photo of Encore Vive, October 2020.
"By utilizing this style of construction, we're able to get some lower-cost builder-risk options," Encore's Charlie said. "We had to get separate wind and flood policies, but combined, we get very beneficial rates compared with the market."
MARKET TAILWINDS
In addition to a proven multifamily development strategy, Encore is riding a couple of market tailwinds, most notably being a population boom in Florida. With an increase of nearly 2% in 2022, Florida was ranked No. 1 in the nation for net-domestic population growth.9 Evidence of this in-migration trend is surfacing across markets throughout the state, led by cities like Miami, Orlando, Tampa, and Jacksonville.
FLORIDA LEADS THE NATION IN POPULATION GROWTH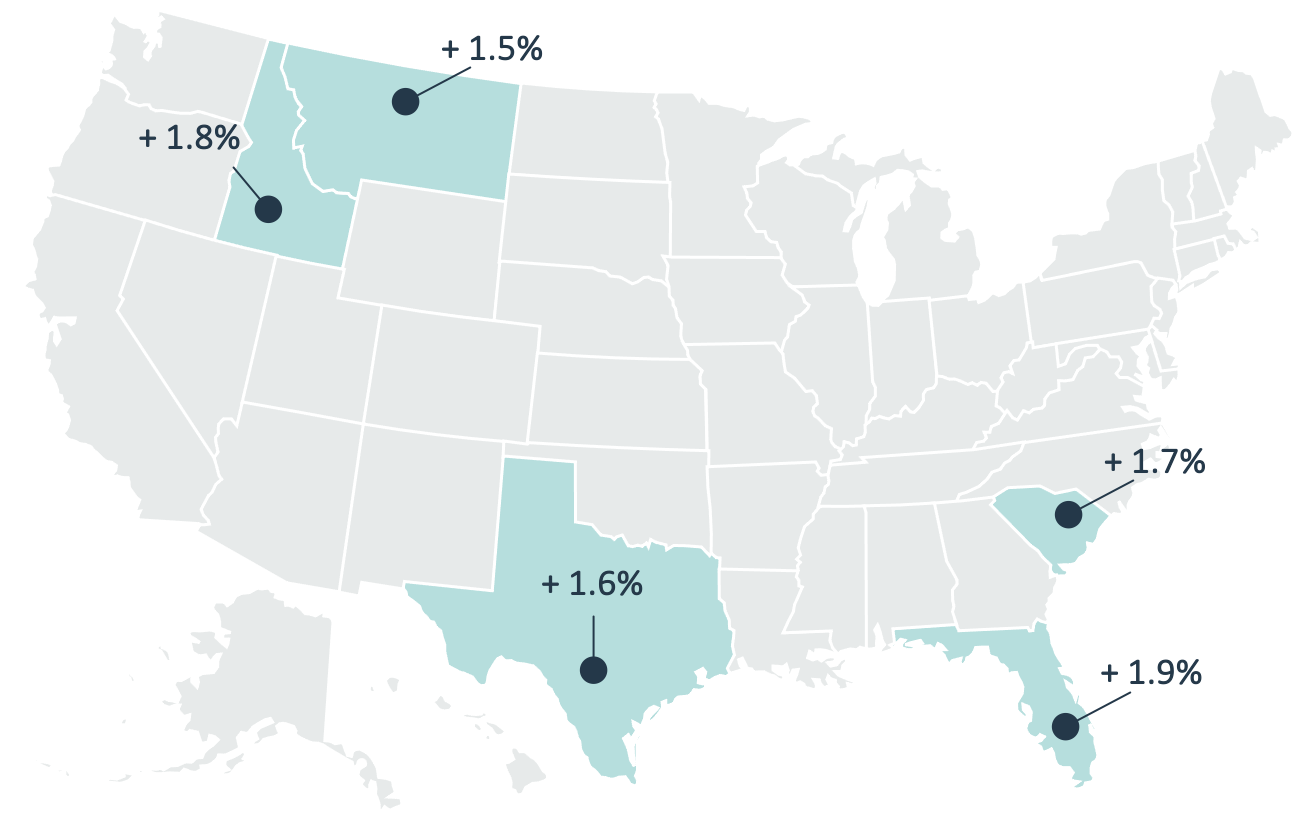 (Click image to view larger)
Source: U.S. Census Bureau, Image by sfbwmag.com.
Anecdotally, multifamily properties could further benefit from the challenges facing the residential real estate market as potential homeowners without coverage are incentivized to rent instead of own.
"We're hearing a lot of issues around homeowners, especially entry-level homeowners; they can't get their arms around insurance. It's expensive or unattainable in Florida. And so, people are staying in apartments longer," noted Encore's Charlie.
Given the current macro-economic backdrop, including high interest rates, apartment demand is expected to remain favorable. Well located, amenity-heavy properties tend to yield strong renewal rates as single-family homeownership remains out of reach for many renters.
It's a theme that is likely to play out in the near term and could lead to some longer-term benefits, too, as Florida markets continue to command higher rents relative to many other jurisdictions.
TAKEAWAY
While the cost of risk along the Gulf Coast may be high, Encore multi-family development has a decade and half of operating experience under its belt, having navigated past storms along the Gulf, including Hurricane Katrina. Seasoned developers are finding ways to make deals worthwhile while continuing to uphold the same high construction standards, mitigating steps that lead to positive industry outcomes for years to come.
Despite insurance premium uncertainty, one thing is clear – the property insurance industry is very well capitalized, with nearly $1 trillion in surplus waiting in reserves to cover any losses, according to Triple-I data, which should help property owners in the Gulf Coast to sleep better at night.
Even as the Florida insurance industry faces a reset, there are market tailwinds that are helping to lift commercial real estate, not least involving a population boom throughout the state coupled with robust demand for multifamily housing, both of which are likely to persist for the foreseeable future.
The information contained herein is for informational and educational purposes only and is not an offer to sell or a solicitation of any offer to buy any securities. The information contained herein is not intended to and does not constitute investment, legal, or tax advice, or recommendation of any services or products for sale and is not intended to provide a sufficient basis on which to make an investment decision. Any investment in securities involves a high degree of risk and may not be suitable for all investors and you should consult with an expert before making investment decisions. The views or opinions expressed herein represent those of Ignite Investments, LLC ("Ignite") or its affiliated sponsors at the time of publication. No assurance can be provided that any of the future events referenced herein (including but not limited to projected or estimated returns or performance results) will occur on the terms contemplated herein or at all. While the data contained herein has been prepared from information that Ignite believes to be reliable, Ignite does not warrant the accuracy or completeness of such information. Please see Terms & Conditions for full disclosures.​
© 2023 IGNITE INVESTMENTS, LLC