INVESTOR EDUCATION SERIES: 2022 MACROECONOMIC OUTLOOK
As we look ahead to the new year, Encore Chairman & CEO, Bharat Sangani, MD, and Encore's resident research advisor, Mark Cypert, joined Ignite's Evita Shneberg in a discussion on macroeconomic factors affecting market behavior and the resulting impact on commercial real estate investing.
Highlights include:
The relationship between the labor market and interest rates in the ongoing effort to curb inflation.
Commentary on the Federal Open Market Committee January meeting, including the market's reaction to Chairman Powell's announcement.
The effect of supply chain constraints on economic growth.
Dr. Sangani's unique perspective as both a physician and an entrepreneur on the evolution of the coronavirus pandemic.
"Barring a shock to the system, we're in a pretty good place to continue to see economic activity and growth, particularly as a result of the pent up demand. We're in the early phases of an economic recovery and are poised to continue to recover for some time period assuming we can work through the supply chain issues as well as the labor force issues."

-Mark Cypert, CCIM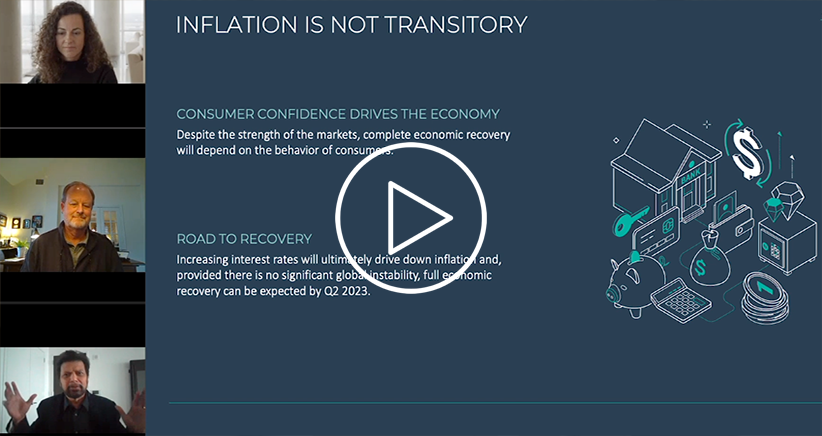 Like what you see?
Investors get access to exclusive content and live webinars.
The information contained herein is for informational and educational purposes only and is not an offer to sell or a solicitation of any offer to buy any securities. The information contained herein is not intended to and does not constitute investment, legal, or tax advice, or recommendation of any services or products for sale and is not intended to provide a sufficient basis on which to make an investment decision. Any investment in securities involves a high degree of risk and may not be suitable for all investors and you should consult with an expert before making investment decisions. The views or opinions expressed herein represent those of Ignite Investments, LLC ("Ignite") or its affiliated sponsors at the time of publication. No assurance can be provided that any of the future events referenced herein (including but not limited to projected or estimated returns or performance results) will occur on the terms contemplated herein or at all. While the data contained herein has been prepared from information that Ignite believes to be reliable, Ignite does not warrant the accuracy or completeness of such information. Please see Terms & Conditions for full disclosures.​
​© 2021 IGNITE INVESTMENTS, LLC