COMPETITION IS RISING,
BLAME LIQUIDITY
For the first time in over 20 years, investors have more money to give than we can responsibly allocate. We have found ourselves limiting the maximum allocation for our most recent offerings to accommodate the capital deployment needs of as many of our investors as possible while we continue to scour for high-quality product in an increasingly competitive market. And we're not alone.
Private and institutional investors alike are feeling the pressure to deploy capital. The imbalance between supply and demand has created an uncomfortable choice: continue to hold excess cash or compromise on price, quality, or sometimes both. Top private equity firms with excess dry powder sift for product among an increasingly competitive market, driving prices up on potentially subpar or riskier investments with reduced return potential for their LPs, a concession Ignite is not willing to make.
Yet markets are soaring, albeit unevenly, and the commercial real estate sector is outperforming expectations. So, where is all this excess money coming from and why is it so hard to secure a responsible investment?
TOO MUCH OF A GOOD THING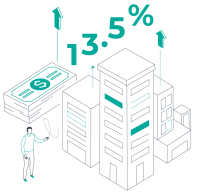 As of September, dry powder for U.S. commercial real estate investments reached $229 billion year to date, igniting a race for suitable investments. Sales have rebounded, varying by sector, and activity was 14% higher in the second quarter of 2021 than it averaged between 2015 and 2019.1 During July, the apartment market saw valuations rise 13.5% year-over-year, increasing at a faster pace than the 2005 housing boom.2
Commercial real estate has remained relatively resilient throughout the pandemic, due in part to the interventions by the U.S. government to prevent a collapse on par with the Great Financial Crisis ("GFC") in 2008. Since March 2021, the government has injected record amounts of stimulus into the U.S. economy while the Federal Reserve ("Fed") doubled its balance sheet to $8 trillion. In addition to a flat-interest-rate environment that has discouraged investments in bonds, inflation has also deterred investors from holding cash. All of this excess liquidity has saturated the equity market and created a wealth of new and bullish investors bidding up stock prices, with a concentration in prominent companies. Both the S&P 500 and Nasdaq indices reached all-time highs in September 2021, with several analysts predicting a correction or market cooldown on the horizon.3
S&P 500 HISTORICAL PERFORMANCE

Source: S&P Dow Jones Indices LLC.
Private equity firms are similarly oversupplied with cash, according to a recent MarketWatch report and "have been piling up dry powder for deals as their investors continue to pour money into the asset class in search of yield in a flat-interest-rate environment."4 Commercial real estate has been particularly attractive to institutional investors, with several notable pension funds increasing their contributions over the past year, mimicking the aftermath of the GFC.5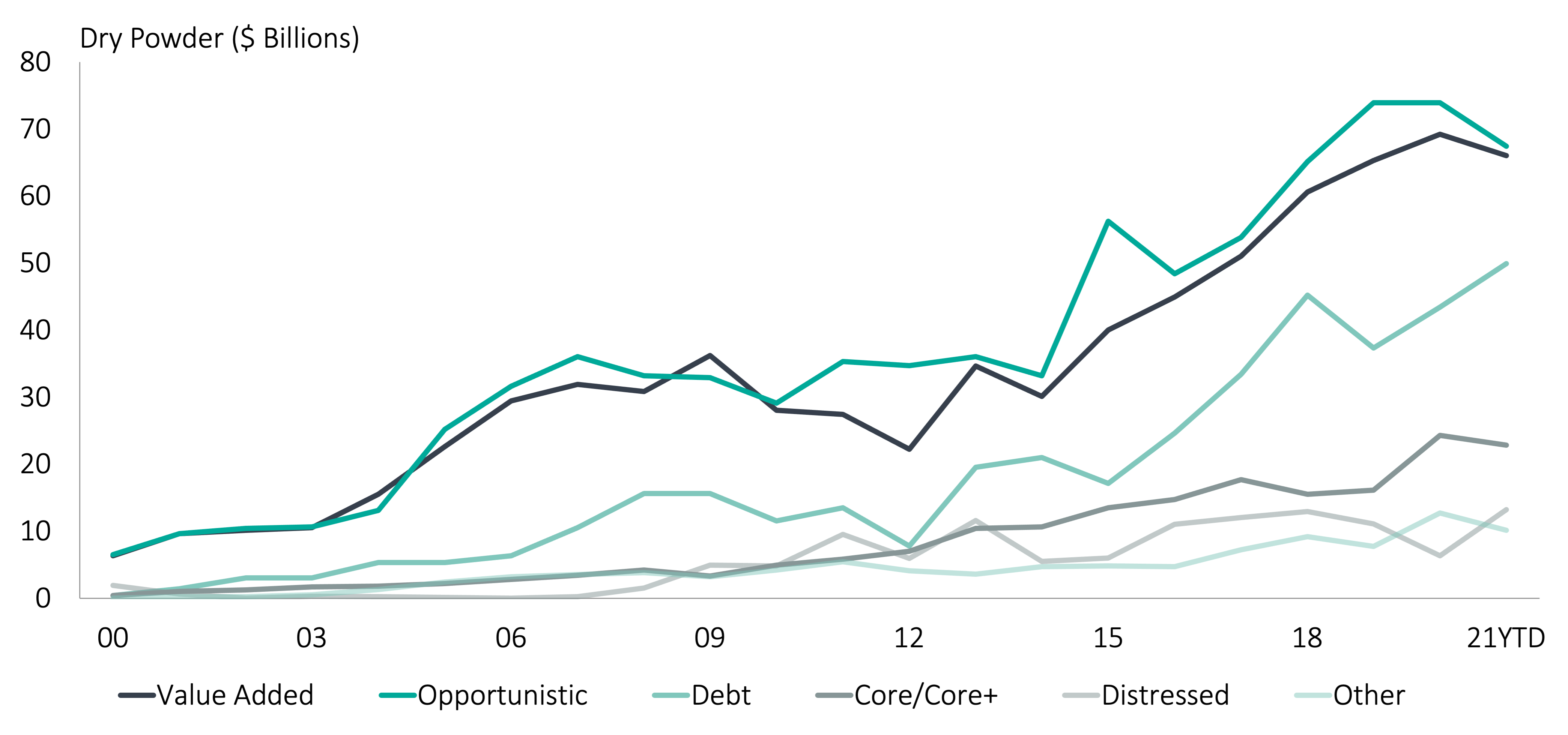 Source: Preqin; CoStar Advisory Services as of September 2021.
This influx of capital has caused steep competition for desirable assets, particularly within real estate, as well as a proliferation of closed-end investment funds, as demand mounts from investors expecting their capital to be deployed. This type of competition to place excess capital within a fixed period of time may increase the pressure on private equity firms to relax their underwriting standards, which could lead to riskier investments for their investors while further driving up prices for everyone else. 6
"Assets are trading hands faster than we can fly out to survey them, and well above what we would consider fair market value. Buyers are paying premiums and agreeing to short due diligence periods just to get a deal done. We are one of the few investors out there that is not compromising on our proven process, staying competitive by working extra long hours to meet our diligence requirements."

Charlie Keels, President of Encore Multifamily
HOW LONG WILL THIS LAST?
Since it is unclear when the supply-demand spread will narrow or when equity market conditions will change, all eyes are on the Fed for assurances that it will tighten its balance sheet. At the September Federal Open Market Committee meeting, the Fed indicated it may begin tapering its bond purchases as early as November, which should mitigate further liquidity entering the markets. In the meantime, recent market instability may curb risk appetites and channel more investors towards real estate. 7
We are encouraging our investors to advocate for deal flow transparency from all their investment partners and for patience in selecting assets that align with their risk/return profiles. Ignite Investments remains committed to partnerships with discerning sponsors to source high-quality products that have been thoroughly vetted using established investment protocols, unwavering underwriting standards, and proven due diligence processes.
Ignite Investments continues its commitment to
responsible partnerships and dealflow transparency.
Click here for more information on our current and upcoming offerings.
1 https://www.rcanalytics.com/usct-overview-q221-rebound/
2 https://finance.yahoo.com/news/commercial-real-estate-investment-volume-165944093.html
3 https://www.cnbc.com/2021/09/05/stocks-and-the-market-two-strategists-weigh-odds-of-correction.html
4 https://www.marketwatch.com/story/private-equity-powerhouses-are-sitting-on-piles-of-uninvested-cash-11629913878
5 https://www.institutionalinvestor.com/article/b1rxlk0qqqwnky/Institutional-Investors-Bet-on-Real-Estate-s-Recovery
6 https://www.wealthmanagement.com/investment-strategies/cre-due-correction-and-covid-19-wasnt-it
7 https://www.bloomberg.com/news/articles/2021-10-05/stock-traders-rethink-their-own-moves-at-fastest-rate-in-year
The information contained herein is for informational and educational purposes only and is not an offer to sell or a solicitation of any offer to buy any securities. The information contained herein is not intended to and does not constitute investment, legal, or tax advice, or recommendation of any services or products for sale and is not intended to provide a sufficient basis on which to make an investment decision. Any investment in securities involves a high degree of risk and may not be suitable for all investors and you should consult with an expert before making investment decisions. The views or opinions expressed herein represent those of Ignite Investments, LLC ("Ignite") or its affiliated sponsors at the time of publication. No assurance can be provided that any of the future events referenced herein (including but not limited to projected or estimated returns or performance results) will occur on the terms contemplated herein or at all. While the data contained herein has been prepared from information that Ignite believes to be reliable, Ignite does not warrant the accuracy or completeness of such information. Please see Terms & Conditions for full disclosures.​
© 2021 IGNITE INVESTMENTS, LLC